3 Reasons Why Your Pug Should Wear a Harness
I know I've written about the importance of your pug wearing a collar and ID tag and it is important. But it is also important that it not be the only thing they wear. I believe it is just as important that your pug wears a harness as well as a collar and ID tag and here are 3 reasons why your pug should wear a harness.
Stops pugs from choking themselves on walks
Pugs are notorious for being overly excited when going on walks and tend to walk you by pulling on the lead. This can mean that if walking them with a lead attached to a collar, then the pulling can choke them. So walking them on a lead attached to a harness instead of collar can prevent your pug from choking them self when they get overly excited and pull on the lead. You don't want to run the risk of any neck or trachea injuries that can be caused by pulling and wearing a collar at the same time.
Harnesses are very hard to slip out of
Harnesses are much more secure on your pug when you are outside of a secure place such as your home or backyard. With a variety of harnesses available, you will be able to find one that will fit your pug making it difficult to slip out of unlike they could with wearing just a collar. And this means the chance of them slipping out of their collar when tied up at a cafe/shop or faced with a scary situation is dramatically reduced. And no one wants to run the risk of their pug being an escape artist and then having no identification on them to help with their safe return.
Gives you more control of your pug
If your pug gets overly excited or if they are confronted with a situation where they may want to lunge at another dog, a harness will actually give you much more control over your pug than what a collar would and being able to have control over your pug in a difficult situation can be the best thing for you and them. Nobody wants an injury to occur to their pug especially in a situation where a pug can have the strength of a big dog and a harness is the answer to you gaining control.
Whilst a harness is an important piece of gear to have for your pug, a collar and ID tag are still important as an addition to a harness to ensure that your pug has the most up to date contact details on them. You can also have the additional piece of mind by adding an ID tag to the harness as well. But either way, these are just 3 great reasons why your pug should wear a harness.
Do you use a harness for your pug? I have multiple options for Ref & Serina depending on when and where we are heading out including a harness for safe travel in a car.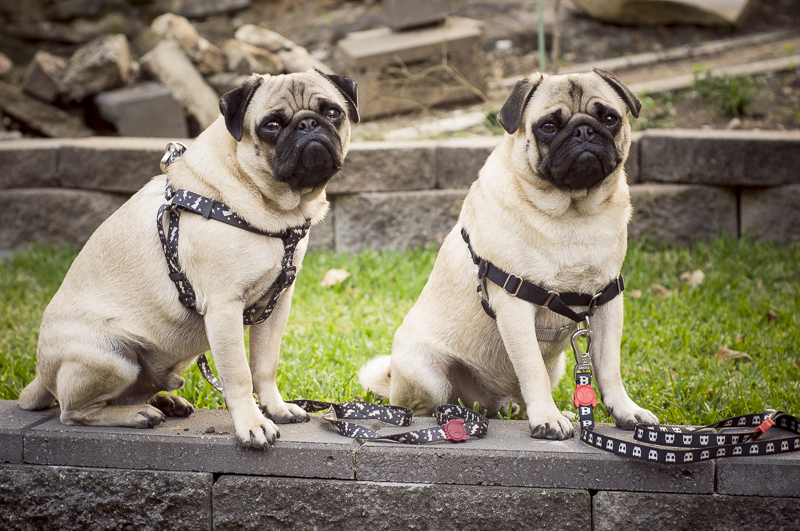 The following two tabs change content below.
Kristy is the founder and editor of The Pug Diary, a photographer and pug mum extraordinaire to Ref + Serina. Kristy has combined her passion for photography with the love of pugs to bring you all of her knowledge of pugs and more to you through The Pug Diary.
Latest posts by Kristy Beck (see all)